The Murder of Roger Ackroyd
In Agatha Christie's The Murder of Roger Ackroyd, we discover that Hercule Poirot has retired and is living in the village of King's Abbot. Hercule Poirot's intention is to spend his time growing vegetable marrows! His neighbour is Doctor Sheppard and it is he who relates the story, Hastings having gone to live in Argentina.
The story begins when Dr Sheppard is called to the bedside of Mrs Ferrars only to discover that she had been dead for some hours, and it is highly likely that she committed suicide. Her death is soon followed by the murder of her fiancé, Roger Ackroyd and it is Ackroyd's niece who persuades Hercule Poirot to come out of retirement and discover the truth of what happened. Hercule Poirot allows himself to become involved in the case, but warns Flora that he will get to the truth, however unwelcome that truth may be. Because it is Flora's fiancé Ralph Paton, Roger Ackroyd's adopted son, who is the chief suspect, and Ralph has disappeared!
Through the medium of his journal, Dr Sheppard takes us through every step of the investigation, giving a scrupulously accurate account of events as they unfold and of Poirot's piecing together of the various elements. Dr Sheppard becomes a sort of substitute Hastings and his relationship with Hercule Poirot is an enjoyable part of the story.
When I first read The Murder of Roger Ackroyd, I was absolutely amazed at Dame Agatha's deviousness! I changed my mind two or three times about who was the guilty party, but was miles out! There are, indeed, suspects galore in this brilliant murder mystery which ranks as one of Agatha Christie's greatest. It is worth reading a second or third time just to follow her meticulous plotting and attention to detail.
Is this Dame Agatha Christie's masterpiece? Opinion is somewhat divided in my latest Agatha Christie poll (Greatest Agatha Christie Novel).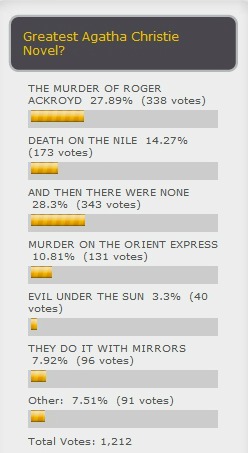 Whatever the final result, for me it is undoubtedly an outstanding example of her brilliance and one of the best murder mystery stories every written.
To get hold of this classic Agatha Christie book - see following links.
The Murder of Roger Ackroyd
Read on Kindle
---
Go From The Murder of Roger Ackroyd Back To The Home Page