Agatha Christie's Disappearance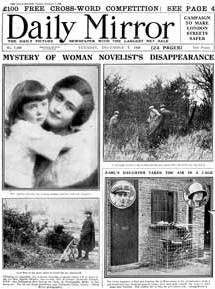 I imagine like most Agatha Christie fans, I've always been fascinated by the events surrounding the author's disappearance in December 1926.
Unlike the plots in her brilliant books, the motives underpinning this particular storyline are rather vague.
What we do know
Her car was found abandoned at a local beauty spot close to her home in Sunningdale in Surrey on the 3rd of December 1926.
Leaving a bag of clothes and her private possessions inside the car, Agatha Christie travelled to London and caught a train to Harrogate in Yorkshire. Upon arrival, she took a taxi to the Swan Hydro Hotel and signed in under the name of Teresa Neele. Adopting the surname of her husband's mistress Nancy Neele.
Agatha Christie's disappearance prompted a nationwide search involving over a thousand people officers and members of the public, and for the first time in UK history, aeroplanes were employed as part of the search effort.
Newspapers offered rewards for information and her husband Archie was suspected of foul play.
What I didn't realise until recently was that two of Christie's fellow authors Dorothy L Sayers and Sir Arthur Conan Doyle were drafted in to help with the search effort.
11 days after she disappeared Christie was recognised, the police were informed, as was her husband who travelled to Harrogate to take her back home.
Forget Sherlock Holmes' Violin, it's Bob Tappin's banjo you need!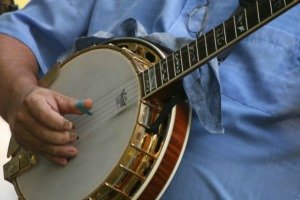 It always tickles me that most accounts of Christie's disappearance invariably mention the fact that the person who recognised her was Bob Tappin, a local banjo player. This last point is rarely left out, as if to imply that had Mr Tappin decided to take up another instrument in his youth, he simply wouldn't have been capable of his much publicised identification.
The Speculation
Agatha Christie rarely talked about the incident, simply putting it down to a bout of temporary amnesia caused by a blow to the head.
"For 24 hours I wandered in a dream, and then found myself in Harrogate as a well-contented and perfectly happy woman who believed she had just come from South Africa."
Few people were convinced by this explanation.
The consensus of opinion at the time was that the whole affair (no pun intended) was an act of revenge aimed at her erring husband.
Writing for the Guardian newspaper in 2000, John Ezard interviewed the daughter of Christie's sister-in-law and friend, Nan Watts, who claimed that she learned the truth of what happened as a child while in the company of her mother and Christie herself.
She claims that on the night that she disappeared, she was hidden away by Nan Watts at their Chelsea home before being put on a train to Harrogate the following day.
"She then just sat there in her hotel room, hiding away...But she had signed the guests' register in the name Neele - the surname of her husband's lover...It was carefully orchestrated...She wanted Archie back...She wanted to give him a shock...If she had had amnesia she would not have signed the register in the other woman's name...My mother helped her because she was distraught. I think she went to my mother because she had been through a divorce. [Mrs Christie] never did it for the publicity. That was the last thing she would have thought of. She was very upset and shocked - it all went rather wrong."
In his article, John Ezard points out that following her death in 1976, her first wedding ring and Mr Christie's letters were found in her writing case. He also adds that Christie's biographer Janet Morgan was not convinced by the 'revenge' theory, claiming that she was "sick and bewildered" before and after her flight.
Recommended Reading
Agatha Christie and the Eleven Missing Days By Jared Cade
Book Description
In December 1926 Agatha Christie disappeared in bizarre circumstances from her home in southern England. The discovery of the crime writer's abandoned car led to the biggest manhunt in British history for a missing person. Eleven days later she was found in a northern spa town claiming to be the victim of amnesia.
Until the publication of this book in 1998 none of her biographers had come up with conclusive evidence as to what Agatha Christie did within the first twenty-four hours after she disappeared or whether her memory loss was genuine. Although the newspaper headlines made her famous, the private anguish that surrounded the episode ensured that she made no reference to it in her memoirs.
Jared Cade's acclaimed biography – on which a BBC television documentary has been based – provides the answers to the mystery, including Agatha Christie's long forgotten explanation of the notorious episode, along with startling accounts by her surviving relatives that reveal for the first time why she staged the disappearance with the help of a co-conspirator and how it all went terribly wrong. His sympathetic investigation reveals the incidents that shaped her character and how the fall-out from the episode affected the rest of her life.
Illustrated with 60 photographs, many of them from private albums, this fully expanded 2011 ebook edition draws on a newly discovered cache of family papers, diaries and letters, to which Jared Cade was given exclusive access, and reveals even more fascinating secrets about her life and works. Agatha Christie and the Eleven Missing Days: The Revised and Expanded 2011 Edition is a must for all Christie devotees.
See following link for full details.
Agatha Christie and the Eleven Missing Days: The Revised and Expanded 2011 Edition
Read on Kindle
---
Go From Agatha Christie's Disappearance Back To The Home Page