Murder at Charring Cross?
by Kalyani Chaudhuri
(Kolkata, India)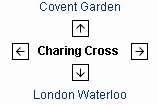 I have been reading Agatha Christie from age 9 and am a retired person now. I distinctly remember reading a story called "Murder at Charring Cross", but cannot find it now. Has the title been changed or am I imagining things?
Click here to read or post comments
Join in and write your own page! It's easy to do. How? Simply click here to return to Murder Mystery Q & A.