August 2006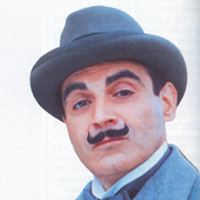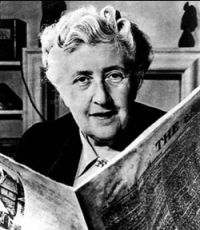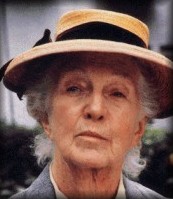 ---

A very warm welcome to the August edition of the All About Agatha Christie Newsletter.

First of all I have to say that I have been amazed and very gratified at the wonderful response there has been to the website. It is attracting thousands of visitors every month and I regularly receive emails from all over the world. I really enjoy hearing from other Agatha Christie fans and hearing their views.

It is amazing to think that an upper middle-class English woman who died thirty years ago is still delighting people of all ages, in all walks of life, from all over the planet.

This newsletter contains graphics that most of you will be able to see, along with links that you can access should you wish to do so.

If you can only see text, this means that your e-mail software cannot read HTML (this just means that the newsletter cannot be read as if it were a web page). You'll still get all the content, although it won't be as easy on the eye, for instance you'll see a series of code where the graphic would be.

I hope you enjoy reading the newsletter, feedback is always gratefully recieved, so please feel free to get in touch via the Contact Me Form at the bottom of the page.

All the very best

Mary


---
Agatha Christie Theatre Company
Some UK Christie fans may be unaware that some months ago, the four-year embargo on professional presentations of Christie plays was lifted. Impresario Bill Kenwright, in association with Agatha Christie Ltd, formed The Agatha Christie Theatre Company, which has exclusive rights to present, on tour in the UK, the original stage, plays.
The company's first production is The Hollow, originally starring Kate O'Mara and Tony Britten, (although I believe Tony Britten had to retire from the role owing to ill health) and below are the dates and venues from the end of August.
28 Aug – 2 September – Theatre Royal, Windsor
4 – 9 September - Lyceum Theatre Sheffield
11 – 17 September – Princess Theatre, Torquay
18 – 23 September - Milton Keynes Theatre, Milton Keynes
16 – 21 - October, Hull New Theatre, Hull
13 – 18 November – The Lowry Theatre, Salford
Touring dates and cast lists are always subject to change, so do check with the theatre of your choice if you are considering going to see the play.
I understand that the company's next production is to be The Uninvited Guest, which will tour in 2007.
---
Re-make of Witness for the Prosecution
I hear that there is to be a re-make of the 1957 film of Agatha Christie's Witness for the Prosecution. The original film which is something of a classic starred Marlene Dietrich, Tyrone Power and the wonderful Charles Laughton.
This new version, to be directed by Michael Radford (Il Postino etc.) is to have Al Pacino and Nicole Kidman as it's main stars. I look forward to seeing it. The source of my information suggests that this new version will stick closely to the original, adding 'No point in remaking an Agatha Christie story if you're going to monkey around with it, right?' TOO RIGHT!!
---
Greenway House Sale
More than 700 items from Greenway House, Agatha Christie's Devonshire home, are to go under the hammer.
Items for sale will include pictures, furniture, ceramics and jewellery, but of special interest to Agatha Christie aficionados will be a collection of books, among which are a first edition of Murder Is Easy (1939) inscribed 'From Agatha Christie – estimated value £1,000 - £2,000; a first edition of The Hollow (1946) inscribed 'Rosalind from Agatha Christie – estimated value £500 - £600; and a first edition of The Mysterious Mr Quin inscribed 'Max from Agatha – estimated value £800 - £1,200.
The sale will take place on Tuesday 2 September and is being conducted by Bearnes Fine Art Auctioneers of Exeter (to whom I am indebted for this information.) Viewing times are: Saturday 9 September – 9.30 – 2.30; Sunday 10 September – 9.30 – 5.30; and Monday 11 September – 9.30 – 7.00.
Greenway was gifted to The National Trust in 2000 by Agatha Christie's daughter Rosalind, and Mathew Prichard, Dame Agatha's grandson, is to give half the proceeds from the sale to the National Trust to help fund conservation work on the property.
Mr Prichard has said:'What is offered for sale on 12 September is either what there is not room for at Greenway or what does not really belong there. It is all authentic family material, including some signed Agatha Christie books.'
Agatha Christie bought Greenway House in 1938 and it was a holiday home and a retreat for the rest of her life.
She didn't actually write any novels there, but it is thought to feature in Five Little Pigs (1943) and Dead Man's Folly (1956.)
A brochure will be available from the end of July and is obtainable on line. For further details visit www.bearnes.co.uk or email: enquiries@bearnes.co.uk.
---
Second Agatha Christie Week
The second Agatha Christie week will take place in Torquay from Monday 11 – Saturday 16 September 2006. The programme of events is as follows:
11 – 16 September -'The Hollow' at Princess Theatre, Torquay
9 September – Mystery Event at the Little Theatre. For details call (01392) 366669
13 September – 5.00 pm – 8.00 pm – 1920s Tea Dance, Oldway Mansion Ballroom, Paignton
14 September – Agatha Christie's Riviera Walking Tour talking in many places that inspired Agatha Christie's work. Call 0870 70 70 010 to book a place
14 – 15 September – 11.30 am – Guided walk round Greenway gardens. Event includes entry to the gardens, morning coffee and lunch. £25 per person, booking essential: 01803 842382
15/16 September – 10 am – 5 pm - All Saints Church, Torre, Torquay. See a copy of Agatha's baptismal certificate in the church that she loved and where she was christened. Local Christie expert Hilary White will be on hand and will doubtless be able to answer any questions visitors may have about the great lady.
16 September – Grand Hotel, Torquay – Murder Mystery Ball in hotel where Agatha and Archie Christie spent their wedding night. Period dress a must! Tickets £40
The town's museum, libraries and tourist information centres will be holding displays throughout the week.
---
The Hollow in Australia
The Star of the Sea Theatre, which is at the corner of Collingwood Street and lluka Avenue, Manley, New South Wales, will be presenting The Hollow from Thursday 2 – Saturday 19 November 2006. Performance times are 7.30 each night, with an additional performance on Sunday 12 September at 5 pm. Tickets are $28/23. Further details can be obtained nearer the time from www.factoryspace.org; alternatively email: factoryspace@telstra.com.
---
Answers to the Agatha Christie quiz
Poirot's manservant is called George
Anthony Marston is the first person to die in And Then There Were None
Mrs Sweetiman and Bessie Burch appear in Mrs McGinty's Dead
The Dumb Witness is a wire haired fox terrier called Bob
Gladys Martin had a clothes peg on her nose when she was found dead
Carlotta Adams is an actress
Amyas Crale was poisoned
Hastings met his future wife in Murder on the Links
Mrs Hubbard is Miss Lemon's sister
Molly and Tim Kendal run The Golden Palm Hotel
How did you do? I'll shortly be posting some fresh questions on the Agatha quiz page of the website.
---
Agatha Christie Resources
The All About Agatha Christie website now has a collection of high quality Agatha Chrisite links.

Agatha Christie Links Page

Another very useful resource is the Agatha Christie Toolbar. A toolbar as you're probably aware is a strip of buttons on an internet browser that provide quick access to certain functions.
The Agatha Christie Toolbar buttons allow you to search the web, access quality Agatha Christie links and tune into BBC Radio 4. A must for all fans, the Agatha Christie Toolbar is completely free to download and totally spyware and pop-up free.

The Agatha Christie Toolbar

Another unique resource designed specifically for users of the All About Agatha Christie website is the Agatha Christie Swicki.
The Agatha Christie Swicki is the only search engine in the world dedicated to finding information on Agatha Christie.

The Agatha Christie Swicki


---
And Finally
I really hope that you have enjoyed reading the August edition of the All About Agatha Christie newsletter. If you think your friends might be interested in taking a look, please feel free to forward it to them.
If you're reading this on the recommendation of a friend and would like to receive all the future editions, you can subscribe for free by visiting the main website.

Newsletter Subscription Page

If you have any comments, feedback, questions etc please feel free to get in touch.

Contact Me

Hopefully the next edition of the newsletter will be sent out in the next month or so.
Until then, all the very best.
Mary
---
New!

CommentsHave your say about what you just read! Leave me a comment in the box below.